Baltic Music Days 2022 "Up-close" festival to be held in Kaunas
Baltic Contemporary Music Network, June 2022
The second edition of the contemporary classical music festival Baltic Music Days (BMD) will be held in the European Capital of Culture – Kaunas (06.-19.11.2022).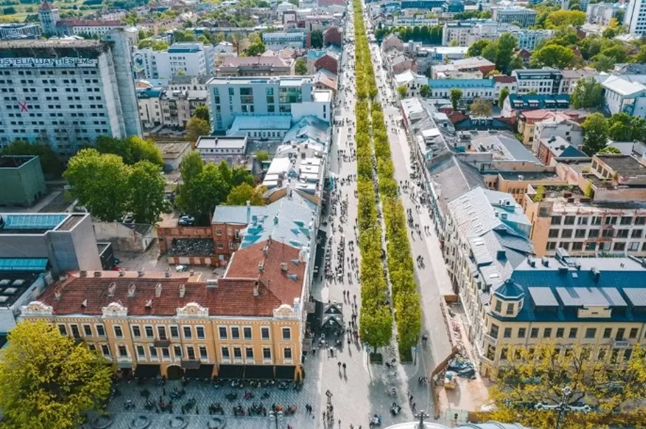 The festival will be hosted by the local contemporary classical music festival Iš ARTI which was founded in 2009 by the Chairwoman of Lithuanian Composers' Union department of Kaunas, Zita Bružaitė alongside with the local composers and musicians.
The festival producer Viltė Žakevičiūtė acknowledges that the Baltic Music Days is an extraordinary result of creative partnership between Lithuania, Latvia, and Estonia. "The festival theme and main focus of 2022 is "UP-CLOSE" which seeks a dialogue between the Baltic countries, to find our roots and cultural spirit. In addition to local performers, the program will include Latvian and Estonian musicians, and we welcome special guests from Austria. It is important to mention how authentic our festival is, every piece in the concert program is composed exclusively by the Baltic contemporary music composers. I am happy to be a part of this beautiful venture!"
This year, the festival will open in Kaunas "Drobė" Factory with the Estonian Electronic Music Ensemble concert on November 6th. The ensemble, dedicated to playing electronic chamber music, aims to transcend technological restraints and promote sensitive musicianship, responding to each other and keen hearing, making full use of all the incredibly rich sonic possibilities offered by electronic instruments.
The festival continues in the Kaunas State Philharmonic with the Ensemble for New Music Tallinn which is known for its extraordinary performances and the use of unique, remarkable instruments. At the concert on Monday (07.11) many pieces written by composers Märt-Matis Lill, Elis Hallik, Justina Repečkaite will be premiered.
The international guest, the New Art and Music Ensemble Salzburg (NAMES) will arrive from Austria on Friday (11/11). NAMES consists of ten musicians from seven different European countries who often collaborate with various artists from a wide range of disciplines – performance, dance, visual arts, literature. Their special focus lies on the integration of electronics. NAMES will perform new pieces by Ramūnas Motiekaitis and Liisa Hirsch including other Baltic composers' works.
Kaunas City Symphony Orchestra will perform new music by Zita Bružaitė and Marius Baranauskas alongside Linda Leimane's piece "Enantiomorphic Chambers" (2019), Marianna Liik's "Kurzschluss" (2019) on Saturday, November 12.
On Sunday, the Latvian Percussion Duo Juris Azers and Guntars Freibergs concert will take place presenting new Latvian music written by Anna Veismane, Andris Dzenītis, Krists Auznieks alongside Estonian and Lithuanian pieces.
Synaesthesis, a team of young and ambitious musicians who's mission is to introduce works of experimental Lithuanian and foreign composers will take the stage of the Kaunas State Philharmonic to perform Žibuoklė Martinaitytė "Hadal Zone" (2021) amongst other works. The programme is yet to be finalised.
Works by Dominykas Digimas, Žibuoklė Martinaitytė, Rita Mačiliūnaitė and Gundega Šmite will reach the audience on November 17th in Kaunas State Philharmonic where the Lithuanian State Wind Orchestra Trimitas and soprano Gunta Gelgotė will perform.
The next day, the Klaipėda Chamber Orchestra and oboeist Robertas Beinaris will perform in the same concert hall to play a new piece by Ričardas Kabelis, Maria Kõrvits's "Darkness and Deeper Dark" (2019), Oskars Herliņš "Absolūtās neesamības mirāža"(2014) and music by the legendary Pēteris Vasks.
The closing concert on November 19th invites the Latvian Radio Choir into the Cathedral Basilica of apostles St. Peter & St. Paul of Kaunas. The programme includes Justė Janulytė "Aquarelle" (2007), Rytis Mažulis "Canon solus" (2007), Žibuoklė Martinaitytė "New Piece", Toivo Tulev "Tanto gentille" (2010), Arvo Pärt "Deer's Cry"(2007), Mārtiņš Viļums "Lux aeterna" (2020), Krists Auznieks "Sensus" (2020).
The Baltic Music Days was launched in 2021 by the Baltic Contemporary Music Network which is formed of all three composers' unions of the Baltic States. The first festival was hosted by the Estonian Music Days. Due to the pandemic it was held entirely online. The BMD edition of 2023 will begin in Cēsis and carry on in Riga from 18 to 31 March, 2023.
"Baltic Music Days is a wonderful example of cooperation between Baltic countries in contemporary music field. Hearing the best examples of Baltic contemporary art music in a single festival is a refreshing and intriguing experience of variety, authenticity and emotional depth. Kaunas is the European Capital of Culture this year and I'm very happy that theBaltic Music Days will happen in such a vibrant and rich cultural context this year!" says Mykolas Natalevičius, the Chair of Lithuanian Composers' Union.
More info will be announced soon.
Festival website: www.balticmusicdays.eu
Photo: Andrius Kalasiūnas